5 tips for writing better thank-you emails
12/7/2020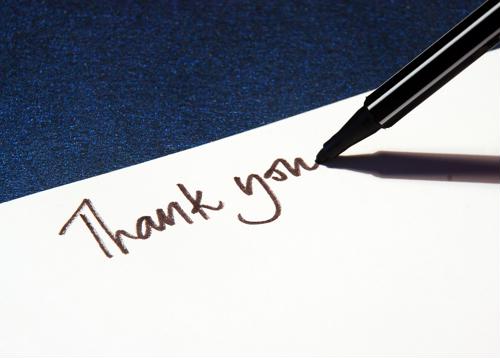 In recent years, it has become increasingly important to hiring managers that job candidates send a thank-you email to follow up an interview. What was once common courtesy is now seen as a borderline requirement in the candidate search, so interviewees may need to make sure they're right on top of this effort, and that they follow through with it both quickly and effectively.
Of course, the ins and outs of writing a great thank-you note might escape those who haven't had to go through a job search since this became so vital to their success in getting hired or who are looking for a job for the first time. As such, the following suggestions should help:
1) Make the "thanks" part clear in the subject line
First and foremost, it's important to make it clear to the hiring manager that the email you're sending is a thank-you note, so putting the word "Thanks" in the subject line is a good idea, according to Career Sidekick. That way, it's less likely to be lost in the shuffle of the many other emails they are receiving, and they don't mistake it for a question they can get to later. In short, you want to score those all-important courtesy points early.
2) Start by reiterating how much you appreciate the opportunity
Your opening paragraph should reiterate that this is a thank-you message, Career Sidekick said. Say you appreciate getting the chance to interview and you know their time is valuable, and you're excited about the opportunity. It doesn't have to be much more complicated than that.
3) Talk about something specific so it doesn't look like a template
However, you definitely should not just copy and paste your email from an existing template, according to Mac's List. This can be tempting because you might find yourself going on a lot of interviews, but it's better to start from scratch every time. With that said, though, many hiring managers are on the lookout for template use, so anything that even appears to be from a template can be a strike against you.
Consequently, adding a note about something specific to the conversation you just had will show that you put work into the message.
4) Don't go on too long
Brevity is extremely important with this kind of email because you and the hiring manager are probably sending and receiving a lot of these kinds of messages, Mac's List noted. With that in mind, keep it on the shorter side — probably just two or three short paragraphs — and save both of you a bit of time. You're just trying to make a good impression, not write the next great American novel.
5) Send it as soon as you can
The sooner you send your thank-you note, the more impressive it might be to a hiring manager, according to the Career Contessa. If you're taking the train or bus home, you can probably do it on your phone right then and there. Generally speaking, you should get it sent within 24 hours.