7 ways upskilling boosts your business
6/21/2021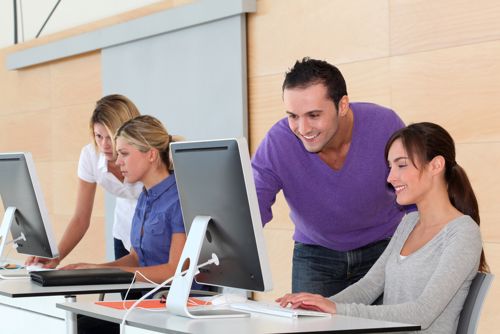 There are many ways in which you can boost your employees' confidence and satisfaction in their jobs, but one of the most consistently effective is with an organizational focus on upskilling. You may have some level of investment in such efforts, but it's possible you are not doing enough on this front because you don't realize the inherent value of upskilling.
The following issues are just some of the benefits your business gets from an upskilling program:
1) Three major aspects of employee retention relate to upskilling
Employees highly value the benefits that upskilling provides, according to the 2021 Voice of the Blue-Collar Worker survey from EmployBridge. In fact, when it comes to loyalty to their companies, workers cited three issues related to upskilling as being among their top preferences.
2) Workers generally seek to move up in their careers
Likewise, the VCBW survey showed that workers generally have a desire to stay in their current industries, but do want to advance within their companies. Indeed, almost 1 in 3 said they want to become a lead or supervisor, and 17% want to work toward a degree or certificate. Upskilling obviously helps with that.
3) You need confidence in replacing retiring workers
Today, many of your employees and managers may be approaching retirement age, and if young people want to step into those roles, they need your support, the survey found. A comprehensive upskilling program will help create the pipeline you need to successfully avoid "brain drain."
4) It builds better relationships between employees and managers
Often, upskilling doesn't necessarily have to come in the form of regular training sessions, but through ongoing mentorship connections, according to the Aspen Institute. That way, the skills or lessons imparted happen organically and consistently over time, creating "stickier" relationships.
5) It discourages workers from looking elsewhere
When people have better relationships at work and feel they have an opportunity for advancement, they are far less likely to look elsewhere for work, the Aspen Institute added. That also helps you avoid costly turnover.
6) It saves your organization money
As you're no doubt aware, higher rates of employee turnover and hiring mistakes are expensive for your organization; a better approach to upskilling reduces this risk in a number of ways, according to Penn Foster. As noted above, it helps reduce turnover, meaning you won't have to search for new hires unexpectedly. Moreover, even if you don't make an ideal hire, you can be confident in getting your employees up to speed quickly and efficiently.
7) It's easy to build an ongoing training program
Today's technology makes upskilling significantly easier and more convenient, Penn Foster further advised. With the right investments in digital training options, your company can empower employees to get more out of each training session, and even complete them in a variety of different ways. That, in turn, helps you feel confident that you are always imparting the right skills to people who need them.