5 tips for writing a thank-you letter after an interview
4/16/2020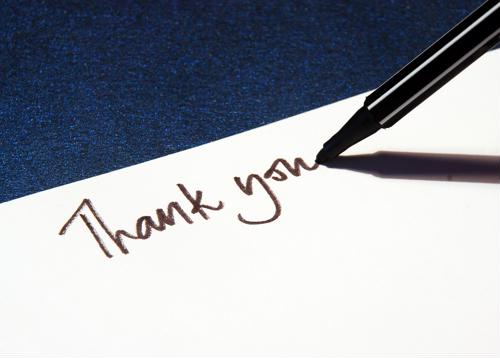 If you are planning on going out for a number of job interviews in the next few months, one thing you absolutely need to remember is the importance of sending a thank-you note soon after the fact. It may surprise you, but many hiring managers say this simple gesture is often the difference between a candidate getting the job or missing out, so it's certainly a worthwhile time investment.
With that in mind, here are five things you need to know about making sure you knock your thank-you note out of the park and help improve your chances of being hired:
1) Send it as soon as possible
Experts typically recommend that you send your thank-you note within either 24 hours or one business day, but the sooner you start writing, the better, according to The Balance Careers. That's because any number of things can come up and could lead you to forget about the note altogether - until it's too late. Starting as soon as you're out of the meeting with a quick note or two on your phone could be a simple answer to getting this right.
2) Use specific examples
As with so many other things in the job search game, you don't want your communications to come across like they're a form letter, The Balance Careers said. As a result, you should strive to write as much of your note with specifics from the conversation. You could mention some of the small talk you engaged in beforehand, or one thing you wanted to follow up with or clarify. Either way, that specificity shows you really took something away from the interview besides the opportunity itself.
3) Make the subject line clear
Hiring managers likely get a lot of emails over the course of the day, so you need to make your subject line stands, according to Zety. Something as simple as "Thank you for meeting with me!" could help your email get noticed in a busy inbox, further helping you gain traction as a candidate.
4) Say again why you're interested in the job
One of the things you should definitely mention for a sentence or two in your thank-you note is why you think you're an even better fit for the open position now that you've gone through the interview, Zety noted. Noting how something that was talked about helped clarify certain aspects of your interest might be particularly prudent here.
5) Make it personal
Because you don't want your thank-you note to across like a form letter, you should address the those email specifically to everyone you met with during the interview process, according to The Ladders. Whether you send them separate emails or CC them all on the same one, making sure they're directly addressed by name will also help clarify that this isn't a form letter and you took the time to write it especially for that occasion.