6 tips for video interview success
4/6/2020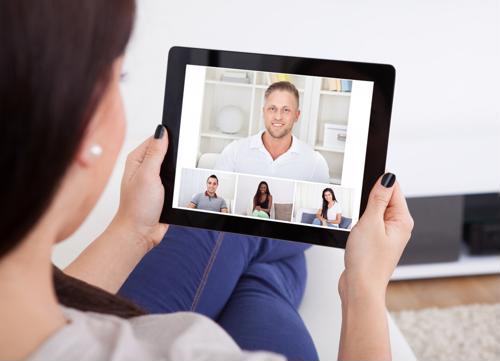 With the coronavirus still a major impediment to the previously normal aspects of daily life, many companies that are looking to bring workers aboard will have to host remote hiring efforts, including video interviews. While the prospect may sound a little daunting to someone who's never done one before, it's usually not that big of a deal as long as you know what you're getting into and follow a few basic steps.
Those steps should include the following:
1) Always talk directly to the camera
Just like you would always want to make solid eye contact in an in-person job interview, you want to do the same - virtually - via video chat, according to Big Interview. To do this, either move the video chat window as close to your computer's camera as you can, or even tape a picture of a person right next to the lens so you're always looking right at someone.
2) Smile - without going overboard
Likewise, one of the biggest tips they give for regular job interviews is to smile frequently (though not too often), and you should do the same here, Big Interview added. After all, you're trying to convey a positive attitude and image, and smiling can go a long way toward ensuring you get the job you're looking for.
3) Find the quietest spot you can
While you're at home, it's important to set up shop in the part of your home where you won't be disturbed and there's not too much background noise, according to Indeed. Rooms overlooking busy streets where you might hear construction noises, sirens or traffic are probably best to avoid, both for your interviewer's sake and your own ability to concentrate.
4) Dress for success
Even though you're staying home these days, it's important to dress like you're going into the office for your interview, Indeed said. This will help you not only look your best and more professional, but imbues/helps establish a more professional mindset so you're fully on track to impress your interviewer.
5) Make reminders about your talking points
One of the good things about doing an interview from the comfort of home is you can leave little notes for yourself - perhaps on Post-Its attached to your monitor or screen, according to The Balance Careers. That way, you won't forget anything you mean to say, or small details about the company with which you're interviewing. These preparatory efforts can help you come across as a more impressive candidate overall.
6) Try out the video chat software beforehand
Among of the big issues you might encounter when you're taking video interviews is that there are a lot of video chat clients out there and you might not be familiar with all of them, The Balance Careers noted. If they say they're using a specific platform, you should play around with it for a few minutes beforehand so you know all its features and don't accidentally click on anything or enable certain features you didn't intend to select.