6 ways to be more confident on video calls
10/1/2020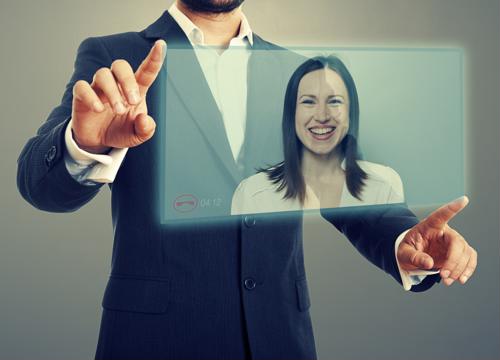 Meetings conducted via video chat have become a way of life for businesses of all types in recent months. With more workers doing their jobs remotely but still having to check in or collaborate with teammates, video is a great way to connect and ensure increased engagement. But if you're looking for work these days and you're uncomfortable with video calls, the thought of an interview can be daunting.
The following steps could help you feel better about the whole process, and land that job:
1) Dress like it's an in-person business meeting
First and foremost, it's important to think of a video chat as being very much like an in-person meeting where you are probably more comfortable, according to Tech Interactive. If your preparation for that call includes getting fully dressed up as you would if you were going to an office — that means not just putting on a shirt and tie or suit coat and still wearing sweatpants at home — you can start to put yourself in a more professional head space.
2) Keep your own window as small as possible
It can be more than a little distracting to see yourself on your own computer screen in real time, and it's easy to get in your own head about your posture and body language when you can see yourself, Tech Interactive noted. As such, do what you can to minimize your view of yourself, or get rid of it altogether if the platform allows for it. That way, it's a lot more like an in-person conversation.
3) Look in the mirror first
With that having been said, you should check that you look good before you sign onto the call, according to Psychology Today. Ensuring there are no hairs out of place or that you don't have any previously unnoticed stains on your shirt can help you get the confidence that you look as presentable as possible.
4) Keep your camera in the right spot
Similarly, it's also a good idea to position your camera just-so, to make sure you're creating the most professional image you can, Psychology Today added. As a general rule, look to leave a little bit of space above and below your head, and sit a reasonable distance back from the screen. The closer the camera is to eye level, the better you are going to look on screen.
5) Take notes
If you have a relatively quiet keyboard and are confident in your typing skills (so you won't have to look at what you're typing and can maintain "eye contact" with the camera), you would be wise to take notes during your call, according to Wellnite. That way, if you get nervous or start to forget a point you wanted to make, you can refer back to what you've written.
6) Practice makes perfect
If you're still unsure of your video chat skills, it can be a good idea to practice in a low-stakes environment, Wellnite said. Ask a friend or family member to video chat with you and give you notes about what you can improve.