5 questions to ask (or expect) in a second interview
1/7/2020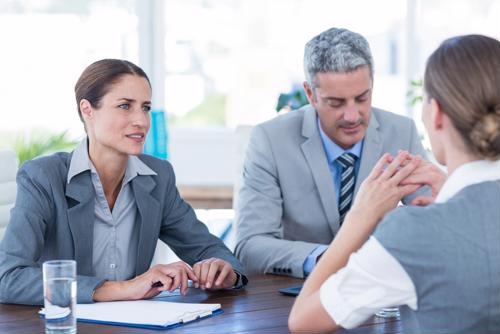 Whether you're a hiring manager conducting a second round of interviews or a job candidate going through that process, you're likely past the getting-to-know-you stage. For that reason, the questions to ask - or that you will be asked - in a second interview can get a little more in-depth and a lot more telling about whether company and candidate are a good fit after all.
Below are five of the most common questions that work well in a second interview:
1) "What are the challenges you're looking forward to most?"
Hiring managers who want to get the heart of the matter when hiring a candidate want to see applicants who are engaged and ready to tackle big issues once they figure out their new roles, according to The Balance Careers. This does not have to be an immediate thing, but it's critical for companies to be able to find outsiders who can identify problems within their new employers' operations and have plans to address them.
2) "If you're the person we hire, what do you think our organization can do for you?"
Many workers see employment as a two-way street, The Balance Careers added. Companies, of course, get the value of their labor, but they typically want more than just a paycheck and health insurance in exchange for what they do. This may mean they're looking for opportunities for professional development, room for advancement within the business and so on. Being clear on this point is always a good idea for both parties.
3) "What kind of work environment do you like most?"
"Culture fit" remains a big deal for workers and employers alike, according to Indeed. If people don't like to work collaboratively, an office that relies heavily on collaboration probably won't work for them. It's important for all involved to find people who will mesh well with their coworkers' existing processes.
4) "What are your short-term professional goals, and what are your long-term goals?"
In many cases, companies are in a position to help their employees achieve a lot of goals, both personally and professionally, according to Fairy God Boss. However, they will need to be on the same page about what those goals are and the best ways the organization can help achieve them. When workers know their company is on board for their plans both five months and five years from now, that will be a great fit.
5) "When do you think you made the biggest misstep in your professional life?"
When hiring managers really want to challenge interviewees, they ask for honest answers about past difficulties, as an avenue to talking about both resiliency and honesty about shortcomings, Fairy God Boss cautioned. When everyone is working together regarding where an employee or company needs to be to move forward together, it becomes much easier to have a great working relationship that could potentially last for many years to come.