5 ways to impress an interviewer
1/7/2020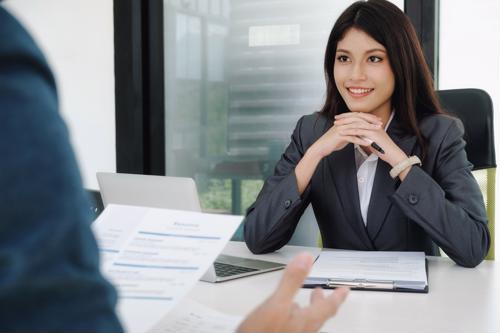 The name of the game with every job interview is putting yourself in the best possible position to impress a hiring manager, but doing so isn't always easy. After all, you may be nervous and the power dynamic in such a meeting sometimes makes it hard to truly connect with the person (or people) on the other side of the conversation.
For that reason, if you take a few extra steps before any such meeting to really understand what you're walking into, you'll be more likely to come across well:
1) Dress for success
First impressions are critical in a job interview, just as they are in so many other parts of life, so you certainly want to make sure you look good before you leave the house, according to The Muse. As a general rule, you should try to dress "one up" for your interview, meaning wearing business-casual attire to a casual office, business to a business-casual office and so on. You should also ensure your clothes are freshly ironed and free of any stains or lint.
2) Start with small talk
Once you actually sit down for the interview, some small talk will make the interview feel more conversational and help set the tone for your entire visit, The Muse said. Exchanging some pleasantries about the weather, the local sports team, etc. - with an eye toward being observant about whether they have pictures of their kids around the office or other decor that could start the conversation - can go a long way.
3) Prep your answers in advance
While you certainly can't anticipate every question that will be asked in an interview, there will likely be some common ones that come up based on your industry, the specific role you're applying for and so on, according to The Guardian Careers. In those cases, it's good to have an answer ready and waiting, so it's probably a good idea to rehearse it anyway, but you can have more confidence if you know you have a good answer ready to go.
4) Take your time
Some hiring managers like to conduct something of a "lightning round" kind of interview, where they ask you a lot of rapid-fire questions and expect short, quick answers, The Guardian Careers added. That can be nerve-wracking even for seasoned veterans of several interviews, but it's up to you to better control the pace. If you can slow down the interview even a little bit by giving longer, more thoughtful answers, that could come across as quite impressive.
5) Ask your own questions
When you get to the end of any interview, the question will almost always be the same: "Do you have anything you want to know from me?" - the answer should always be yes, according to Everyday Interview Tips. Asking even one or two questions you came up with - either beforehand or in the course of the interview itself - can make you seem more thoughtful and inquisitive than if you just say your goodbyes.