4 onboarding practices that can help improve new hire retention
7/30/2019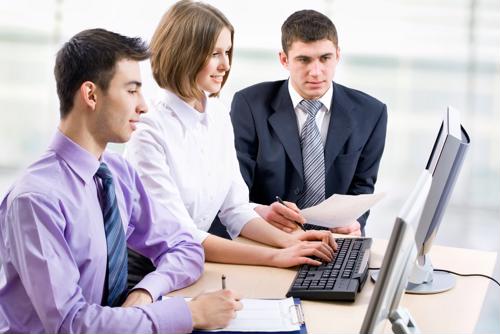 As a recruiter or hiring manager, you likely dedicate a lot of time and energy to locating talented candidates and assessing their knowledge, skills and experience. But the hiring process doesn't end after you've come to a final decision, as onboarding new employees comes with a variety of hurdles that can derail your staffing efforts. In fact, a study from Digitate found that employees who have a negative onboarding experience are nearly twice as likely to seek out alternative job opportunities down the line. To keep recent hires excited about their positions and engaged in the long term, it's important to implement proactive hiring practices that help them make seamless transitions into their new roles.
Here are four onboarding practices every employer should consider:
1) Keep in touch with applicants before their start dates
Even after an applicant has accepted an employment offer, they may still be anxious about starting a new job with an unfamiliar company. One of the best ways to put new hires at ease is to stay in regular contact with them while they prepare for their first day of work. This can not only offset the risk of employee "ghosting," it can also reassure them that they've made the right call, according to Forbes. Sending out a day-one itinerary or asking managers to make an introductory phone call can go a long way to welcoming new additions to the team.
2) Set expectations early
Fear of the unknown can be a major barrier for new hires, which is why it's crucial to set clear and reasonable expectations before or during their first day of work. Additionally, it may be useful to sort out paperwork and technology credentials before their official start dates, as this will free up more time for engaging day-one activities, according to Fast Company. Informing candidates about their training and onboarding schedules can help them get a sense of what to expect and reassure them that there is a support structure in place.
3) Schedule a memorable first day
Traditionally speaking, an employee's first day is usually filled with paperwork, superficial introductions and a lot of new information. And while managers may feel pressured to bring recent hires up to speed as quickly as possible, it's essential to provide them with a positive and welcoming environment. Since the onboarding process typically lasts up to 12 months on average, according to the Society for Human Resource Management, there will be plenty of time for routine training and practice activities. Instead, managers should focus on developing a team-focused orientation strategy that can immerses new hires in their company's culture.
4) Assign an onboarding buddy
According to research from Brandon Hall Group, organizations that have an effective onboarding framework can enhance their retention of new employees by up to 82%. But to secure these positive results, employers must first reassess their training practices and identify areas for improvement. One recent trend is the integration of "onboarding buddies," whereby a new hire is paired with an experienced worker who understands the ins and outs of their position. This can not only help them forge meaningful connections with their teammates, it can also create an unstructured knowledge share that will benefit your company in the long term.