5 great questions from potential hires to end an interview
5/22/2019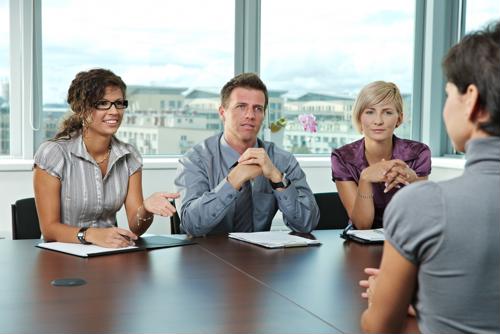 When you're interviewing a job candidate and get to the end of the meeting, there's one thing you're almost guaranteed to ask: "Do you have any questions for me?"
This is a more important query than many - on either side of the desk - might think. It can help clarify areas of concern for candidates, but it can also give hiring managers a chance to see just how thoughtful the person is about the potential opportunity. Some questions might even be a great indicator of just how much they would excel in the job.
With that in mind, here are five "last questions" that could indicate you're talking to the right person:
1) "Can you tell me a little about the people who would be on my team?"
Teamwork is critical to getting ahead in almost every industry. If candidates show a curiosity about the people they'll be working with before even meeting them, that may highlight a better understanding of the importance of everyone pulling in the same direction, according to The Interview Guys. Those who get the best feel for their coworkers in advance could be more prepared to step into their role.
2) "Where do you see the company being five years from now?"
This is a great twist on a classic interview question, The Interview Guys added. It shows this person might see a long-term future for themselves at the company and wants to know more about the course it's on right now.
3) "What will be expected of me in the first few months on the job?"
This question shows that they're already thinking ahead to what they'll need to do to be ready on Day 1, according to Big Interview. If your company is a little more laid-back about onboarding, they might not need to do much prep work on their own, but if they need to hit the ground running, that might give them a bit of homework to tackle. Having that foreknowledge can really pay off for both a business and a new hire.
4) "What challenges currently face the company?"
You're no doubt looking to hire someone because you recognize there's a role to be filled, and likewise a person asking this question might just want to know more about what they will be trying to tackle, either directly or indirectly, Big Interview noted. That could help inform an initial course of action or simply give them a better understanding of what they will need to be prepared.
5) "How has this role evolved, or why was it created?"
Inquisitive people who want to get a better understanding of the job are usually good hires, but those who want to go the extra mile and take a look under the hood might be particularly successful, according to Business Insider. After all, if they're interested in the process that led to the job becoming what it is, or needing to be created, they may be able to tackle the day-to-day work with greater ease.