How can applicants stand out as they start their careers?
5/3/2018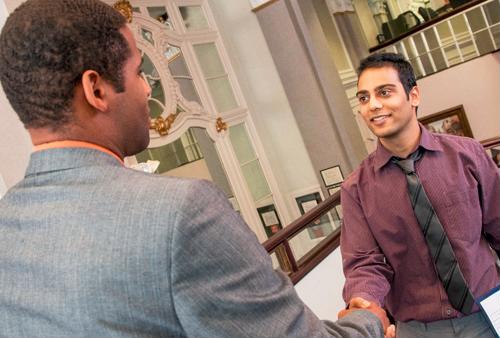 Many college students are now just weeks away from their graduations and the start of the "real-world" careers. That transition presents them with a number of potential issues they must overcome as they try to lock down their first full-time jobs. Fortunately, recent graduates can use a number of strategies to position themselves well to start their careers and job hunts off on the right foot.
Perhaps the most important first step for anyone who has never sought a full-time job in a chosen field is to work with a career counselor or coach to prepare for what can be a rigorous application and interview process, according to Inside Higher Ed. Each of these professionals can do a lot for hopeful workers, and colleges and universities typically provide these service to students and alumni free of charge.
What does the process entail?
As their names imply, career counselors and coaches perform two different tasks, the report said. The former can provide critical advice that will help young applicants stand out from the crowd as they start their job searches, with tips on writing the perfect cover letter and a resume that truly shines, as well as what they should be looking for in a job. The latter can do some of that, as well as provide "coaching" with basic and advanced tips on finding the right job and more information about a company, which can then pay off during the interview process.
What can applicants do?
It's also important for college students and recent graduates to ensure they're making as many connections with people already in their chosen fields as possible, according to USA Today. Networking is vital for just about everyone in most fields, but for those just starting their careers, it can be particularly critical. Becoming more engaged on social media with a specific focus on their chosen sectors may help them catch prospective employers' eyes and glean valuable advice from people they connect with.
It's also wise for recent graduates to make sure they're giving themselves plenty of options for employment within their chosen careers, according to leadership and careers expert Margie Warrell, writing for Forbes. Especially for those just entering their chosen fields, it's not always feasible - or even possible - to find the ideal job right away. Having a little flexibility can help applicants get their foot in the door with a company, gain valuable experience and position themselves well to advance in a relatively short period of time. This possibility doesn't mean those who hope to become geologists should accept janitorial positions at a lab, but setting expectations for something in the area of what they eventually want to do - such as a research assistant - could go a long way.
In general, the more young adults can do to research their options and tap available resources to make sure they find the right landing spot, the better off they will be when it comes to finding a position that can springboard them to a long and fruitful career.