Types of interviews applicants might encounter
4/30/2018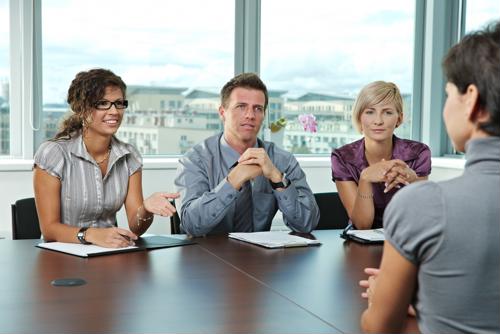 Interviewing for a job doesn't have to be stressful, especially if you're well-prepared. If you think about interviews as a chance to become more familiar with the company and determine if the company is a place you'd enjoy working, it can be easier to relax than if you view it as a personality quiz or interrogation.
From a company perspective, these conversations are meant to help hiring managers understand who you are as an employee and what strengths you can bring to the role. Extensive preparation enables you to be calm, friendly and professional when you finally meet the interviewer.
There are several types of interviews that you may encounter when applying for jobs. Before any of these, you'll want to research the company, learn about its culture and visit the original job posting so you have a good idea of what skills to focus on.
Traditional one-on-one
The most common type of interview, especially for smaller companies, is an unstructured, one-on-one conversation. You'll personally meet with one representative of the company to talk about the position and how your skills and experience can provide value. This is an informal meeting, so relax and project confidence and calm while you're speaking with your interviewer.
It helps to have talking points ready beforehand as well as questions that you can ask the interviewer to show engagement.
Panel Interview
A panel interview involves several managers from different departments meeting a single candidate at one time. These can sometimes be overwhelming since you'll be facing multiple people at one time.
Make eye contact with all of the people in the room, not just the one who asked the latest question, to maintain that friendly connection, the Times Union recommended. Just like with a one-on-one interview, you might want to look up common interview questions beforehand and have a set of talking points ready to go.
Group Interviews
These interviews involve multiple candidates interviewing at a single time with one or more hiring managers. For introverted individuals, these can be difficult since you'll need to speak up in front of the group and may even need to compete for attention.
Before the meeting, make sure to have a self introduction prepared, Work It Daily suggested, so you are ready to make a great first impression. Make sure to answer at least one question first, and don't be afraid to support other interviewees answers as a way to demonstrate your collaboration and teamwork skills.